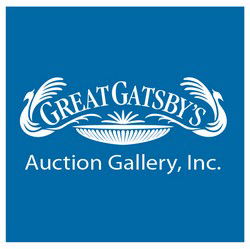 Weekly Auctions of Exceptional Items
Upcoming Auctions
Reviews
Past Auctions
Record Results
Upcoming Auctions from Great Gatsby's Auction Gallery, Inc.
Bidder Reviews for Great Gatsby's Auction Gallery, Inc. (192)
8 Latest ReviewsSee All
Katherine
Manhattan Beach, CA
Nelly
Lakewood Ranch, Florida
Rosemary
New Orleans, La, Louisiana
Above and Beyond
I cannot speak highly enough about how accommodating Great Gatsby's was about issues related to my purchase. As the successful bidder at an early May auction, I discovered that many shippers were not available due to the coronavirus. Gatsby's were so understanding and waived storage fees until I could arrange shipment. The staff that I dealt with were all knowledgeable and friendly. I would have no hesitation to bid with Great Gatsby again.
Cedric
Los Angeles, California